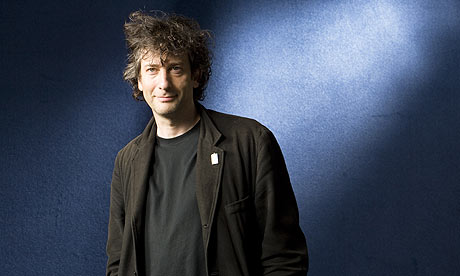 Awesome news for all Gaiman fans:
The Graveyard Book
is going to be a movie. There was a rumor that the project was dead. Neil Gaiman posted this
article
on his Facebook page last week. Here is a piece of the article related to the book:
The Graveyard Book is being adapted as a live-action feature to be written and directed by Neil Jordan (The Crying Game, The Brave One, Ondine). The story is Gaiman's nod to The Jungle Book where a young boy is raised by the ghostly, ghoulish occupants of a graveyard, instead of animals. It sounds like the project is moving forward the exact same as it was earlier this year. Wayfare Entertaiment, Framestore (the visual effects company) and Gaiman will also produce, and CJ will co-finance the film and distribute in Korea and Japan. "The projects we are developing together meet our shared goal of producing movies for the global audience," Columbus said. "We see this as just the beginning of many terrific movies together." I hope so!
I am too excited and cannot wait for this movie.
I finished As It was Written by Sujatha Hampton today in lunch time and will review it soon. I also started The Last Time I Saw You (Audio Book) by Elizabeth Berg this morning.
Now back to work, something I get paid to do.