It has been a while since I wrote here. During that time, I finished three books. Here are really really short reviews of the books.
1.
Life on the Refrigerator Door
by Alice Kuipers:
Short summary
:
Life on the Refrigerator Door is a poignant and deeply moving first novel about the bonds of love and frustration that tie mothers and daughters together. Told entirely in a series of notes left on the kitchen fridge—some casual, some intimate, some funny, some angry—it is the story of nine months in the life of 15–year-old Claire and her single mother.
The concept was good; however, I felt that very important elements of the story could not make it to the notes. There were many parts where I was confused. Since the story is told by notes, the details of the story are missing. Lots of conversations take place outside the book, and the readers are left guessing. I give this book 7 out of 10.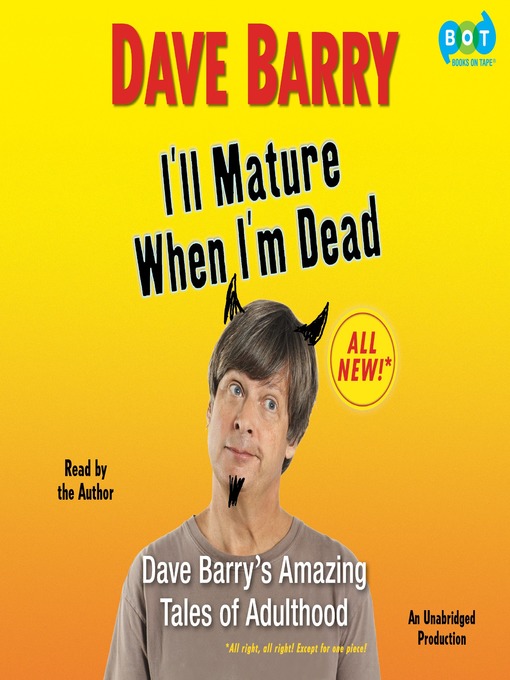 2.
I'll Mature When I'm Dead
by
Dave Barry
:
Short Summary
:
A brilliantly funny exploration of the treacherous state of adulthood by the Pulitzer Prize-winning humorist. Some people may wonder what this subject has to do with Dave Barry, since Dave's struggled hard against growing up his entire life-but the result is one of the funniest, warmest, most pitch-perfect books ever on that mystifying territory we call "adulthood". In hilarious, brand-new pieces, Dave tackles everything from fatherhood, new fatherhood, self-image, the battle of the sexes, celebrityhood, technology, parenting styles, certain unmentionable medical procedures, and much more.
I complained earlier that I will not be listening to any audio books because my brother will be carpooling with me. Well, his friend and he got tired of listening to the radio, and we decided to try audio books. First, we tried
Jane Eyre
because that is their summer reading. It was boring. Then we picked up Dave Barry.
This book has adult humor. Imagine listening to this book with two 17-year olds in the car. You bet I had to skip some chapters. Even then, I enjoyed this book. Along with essays, there are two spoofs of 24, TV show, and
Twilight
and something for dog lovers. There were several laugh out loud moments; however, there were some boring sections as well. Dave Barry did a good job reading the book. Overall, it was a decent book. I give it 8 out of 10.
This book qualifies for the
Audio Book Challenge
.
3.
Lawn Boy
by
Gary Paulsen
:
Short Summary
:
One day I was 12 years old and broke. Then Grandma gave me Grandpa's old riding lawnmower. I set out to mow some lawns. More people wanted me to mow their lawns. And more and more. . . . One client was Arnold the stockbroker, who offered to teach me about "the beauty of capitalism. Supply and Demand. Diversify labor. Distribute the wealth." "Wealth?" I said. "It's groovy, man," said Arnold. If I'd known what was coming, I might have climbed on my mower and putted all the way home to hide in my room. But the lawn business grew and grew. So did my profits, which Arnold invested in many things. And one of them was Joey Pow the prizefighter. That's when my 12th summer got really interesting.
This book was one of the best children books. It was short, funny, and educational. Usually that combination is hard to find. My brother and his friend enjoyed this book, and that is saying something. Sadly, it was so short that we finished it in two days. We just could not wait to get back to the book. My brother decided to recommend his Economics teacher to assign this book to the students.
There is nothing to say about Gary Paulsen. He is simply a genius. I had a friend who had read
Hatchet
like million times. That book is on my TBR list.
All I can say is read this book. It is very good. I give this book 10 out of 10.
Lawn Boy Returns
was released on March 23, 2010, and I can't wait to get my hands on that book.
This book qualifies for the
Audio Book Challenge
.